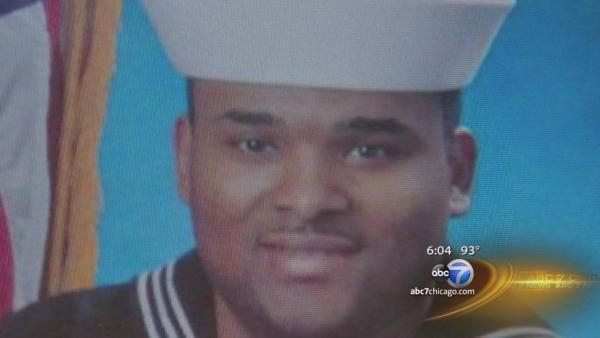 Barry Burch Jr.
A robbery gone bad by definition can't be good for everyone, and for one particular Chicago family, the sorrow they share after losing Navy veteran Telkia Burns is almost too much to bear.
Burns, father of two, was working toward obtaining a bachelor's degree from Chicago State.  At 33, he was shot and k!lled during a robbery, while attempting to enter his apartment.
Burns' mother, Katherine Burns, said, "He had broke his pelvis and was on a cane, so he was not able to fight.  You cannot fight a gun, no way to get around that."
"It's really hard, but we are going to get over it," said his sister, Tina Burns. "He was a good father, very good in school; he had one more year."
"The university has been very nice.  They are honoring him with a plaque and are planting a tree in his honor. He worked with the youth," said his grieving mother. "He was in Iraq War, Kuwait, Japan and he was fluent in Japanese."
As reported by abc NEWS, Burns' family says he was honored numerous times for his work in the service.  He reportedly was a loving father of his two sons and was attending college so that he could become a counselor.  He wanted to help others.
"Everybody loved him," said Katherine.
Astonishingly, Katherine has already forgiven her son's killer.  She says that will help her heal.  According to police, the security cameras lead them to the suspect, who allegedly shot Burns in the temple.
"May God have mercy on him and his family. I forgive him. I harbor no ill feelings for him because I have to heal. There was something broken in that man; there was nothing broken in my son," said Katherine.